Palmargen Essence
Cajones Palmargen is born from the musician and craftsman Paquito almargen to create an innovative and alternative product, obtaining a new line of cajones with a distinctive personality and being truly authentic.
 
After having been several years in the industry and having obtained the recognition from prestigious percussionists suchas: 
ROGER BLAVIA, RUBEM DANTAS, JUAN FLORES,        ÁNGEL SÁNCHEZ "CEPILLO", DAVID BECERRA, PETER DEIMAN,...
…a new brand has been consolidated.
Palmargen cajones are handcrafted from first quality wood, by using different harmonic front boards with an excellent finish.
.
Discover the Palmargen Essence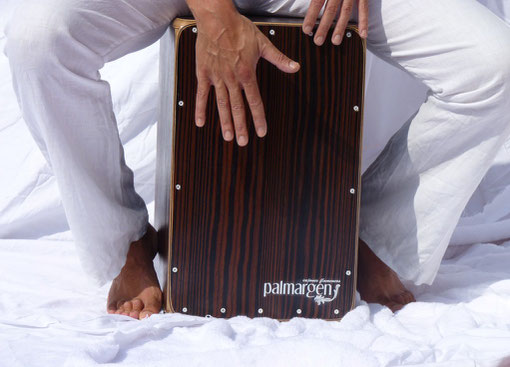 You know the sound you want to achieve but sometimes it is not that easy to externalise it and get out everything within you.
Each Palmargen cajón was conceived with the idea of sound personalisation: from the very first moment you play it, complicity between you and the instrument will be established and you will be able to express all you are feeling at that moment, whatever your style is.
Cajones Palmargen is the answer to all those who know what they want.
When you play a Palmargen cajón you feel an immediate connection with the instrument, obtained through a harmonious relationship between treble and bass. This allows you to get a natural sound, warm and at the same time with a touch of strength and personality.
Thanks to its compact structure, the strength of the front boards and its permanent mechanism (Statikbox), it is possible to obtain an acoustic balance. In this way, you will enjoy the result: a natural and grateful sound. Moreover, the rounded design of its corners contributes to a good adaptation of the hand palms and it is very comfortable to play.